Contact Us
Flower Care
Plant Care
Flower Meanings
Flower Gallery
Holiday Calendar
Floral Delivery Area
About Us
Home



Sidney Flower Shop
111 East Russell
Sidney, Ohio 45365
937.492.6930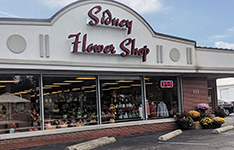 Sidney Flower Shop - delivering flowers throughout the Shelby County area

Flowers have wilted…What do I do with this vase?! Cupboard, garage sale?
At Sidney Flower Shop we create a memory! We offer unique vases that can become part of your home decor.

Come in and create an experience and lasting memory, with the many workshops we offer. Or let us help you make your wedding or special day perfect!

Our flower shop provides quality flowers, arrangements, and gifts for all special occasions. From birthday flowers to sympathy flowers to get well flowers, all available for residence, hospital, and funeral home delivery, trust Sidney Flower Shop to have just the right arrangement for you.
Flower Shop Hours: Monday - Friday 9am - 6pm, Saturday 9am - 2pm, Closed on Sunday.